The Black Key by Amy Ewing

Series: The Lone City #3)
Genre: YA, dystopia, sci-fy
Release date: October 4th 2016
Publisher: HarpenTeen
Length: 304 pages
For too long, Violet and the people of the outer circles of the Lone City have lived in service to the royalty of the Jewel. But now the secret society known as the Black Key is preparing to seize power.
And while Violet knows she is at the center of this rebellion, she has a more personal stake in it—her sister, Hazel, has been taken by the Duchess of the Lake. Now, after fighting so hard to escape the Jewel, Violet must do everything in her power to return to save not only Hazel, but the future of the Lone City.
Little note: UGH!!! I still need to read the sequel, but I remember LOVING the first one! I'm obsessed with the cover of The Black Key too! 😍

---
Nemesis by Anna Banks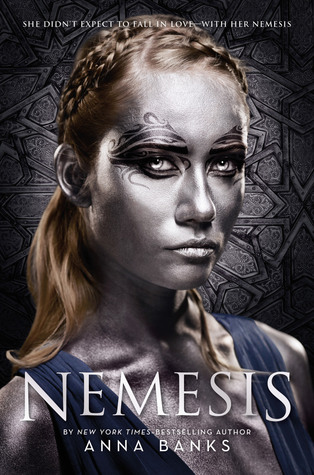 Series: Nemesis #1
Genre: YA, fantasy, romance
Release date: October 4th 2016
Publisher: Feiwel & Friends
Length: 368 pages
The princess didn't expect to fall in love–with her nemesis.
Princess Sepora of Serubel is the last Forger in all the five kingdoms. The spectorium she creates provides energy for all, but now her father has found a way to weaponize it, and his intentions to incite war force her to flee from his grasp. She escapes across enemy lines into the kingdom of Theoria, but her plans to hide are thwarted when she is captured and placed in the young king's servitude.
Tarik has just taken over rulership of Theoria, and must now face a new plague sweeping through his kingdom and killing his citizens. The last thing he needs is a troublesome servant vying for his attention. But mistress Sepora will not be ignored. When the two finally meet face-to-face, they form an unlikely bond that complicates life in ways neither of them could have imagined.
Sepora's gift could save Tarik's kingdom from the Quiet Plague. But should she trust her growing feelings for her nemesis, or should she hide her gifts at all costs?
Little note: I remember seeing the cover many months ago and thinking 'I NEED THIS'. And now it's finally released!! WHOOHOO!