My rating: ★★★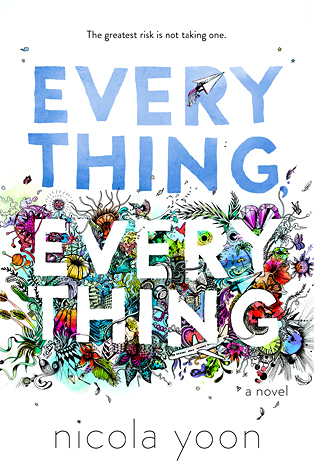 Series: standalone
Genre: YA, romance, contemporary
Release date: September 1st 2015
Length: 320 pages
My disease is as rare as it is famous. Basically, I'm allergic to the world. I don't leave my house, have not left my house in seventeen years. The only people I ever see are my mom and my nurse, Carla.
But then one day, a moving truck arrives next door. I look out my window, and I see him. He's tall, lean and wearing all black—black T-shirt, black jeans, black sneakers, and a black knit cap that covers his hair completely. He catches me looking and stares at me. I stare right back. His name is Olly.
Maybe we can't predict the future, but we can predict some things. For example, I am certainly going to fall in love with Olly. It's almost certainly going to be a disaster.
My thoughts

This book was recommended to me by a lot of people, but my best friend finally convinced to read this one as soon as I received it. So I did and I don't know if it was solely because of the plot or if my high expectations were mingled with my feelings, but I ended up being disappointed.
"Maybe growing up means disappointing the people we love."
Maddy and Olly are very likable characters. You can't help but love them from the very start.
Maddy is sick but she's standing strong and she's surviving through her somewhat lonely life. She makes the best of it by reading and maintaining the very strong connection with her mom and nurse, Carla. And then one day, they are new neighbors moving in and she spots Olly (Oliver). Olly the handsome and mysterious guy with Atlantic blue eyes, dressed in all black sees Maddy from the window. Their eyes meet and well… you already guess how this will continue.
"Everything's a risk. Not doing anything is a risk. It's up to you."
The first part of this book is amazing. The little drawings and other notes gives it a very fun and unique touch. The growing relationship between Maddy and Olly is adorable, but… not moving. But the story is cute and addictive so you still want to keep reading. Then the big "plot twist" (that you definitely sense coming) happens and you're like 'what the hell? That's it?'. After that big moment, I started to feel less connected to the story and I had trouble to stay interested. The storyline… is very predictable and I just wanted it to be over… It also felt like the plot wasn't thought through. I have lots of "Why…?" questions left and I'm just confused. I wish we received some more explanations.
"Just because you can't experience everything doesn't mean you shouldn't experience anything."
So as you can see, I have quite some mixed feelings about this book. It's not the best book, but it's not bad either (especially for a debut!). The writing style is pretty good, and physically, this is a gorgeous book. I'm glad I own it and read it, but I just wouldn't run onto the roof and yell how awesome this book was. It was just average good. Like I said, confusing thoughts…
In case you're a fan of YA books, then you should definitely read this book to see if you agree or disagree with me 😉