My rating: ★★★★+0.5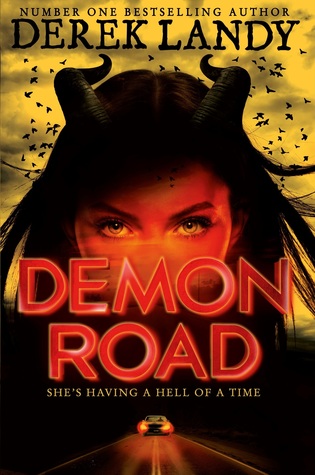 Series: Demon Road #1
Genre: YA, supernatural, contemporary
Release date: August 28th 2015
Length: 512 pages

Full of Landy's trademark wit, action and razor sharp dialogue, DEMON ROAD kicks off with a shocking opener and never lets up the pace in an epic road-trip across the supernatural landscape of America. Killer cars, vampires, undead serial killers: they're all here. And the demons? Well, that's where Amber comes in…Sixteen years old, smart and spirited, she's just a normal American teenager until the lies are torn away and the demons reveal themselves.
Forced to go on the run, she hurtles from one threat to another, revealing a tapestry of terror woven into the very fabric of her life. Her only chance rests with her fellow travelers, who are not at all what they appear to be…
My thoughts
*ARC received from Sterling Books.
This book was AWESOME. It's my first book of Derek and it will not be the last.
I cannot remember reading a book and having so much fun. Do you know the CW's show Supernatural? Well, this book is just like the show. It's funny, adventurous, slightly creepy and addictive. In the first few seasons of Supernatural, whenever an episode started, there's this creepy moment and then boom! A spray of blood and the title card. Demon Road started just like this. The book grips you from page one and you just cannot stop reading. It's quite a big book (500+ pages) and yet I finished it quickly.
They smiled at each other, and she gave his hand a little squeeze and went to let go, but he held on. His eyes found hers, and they softened, and he leaned it.
"I swear to God," she said, "do not try to kiss me."
He faltered. A moment passed, and then he hugged her arm and let it drop. Another moment passed.
"This was so awkward," said Amber.
Amber Lamont, our main character, can sometimes be a little whiny and stupid. But it didn't bother be that much. I mean, I would be just like her if I found out my parents are demons and that they want to eat me (literally!). Her whole world is shaken up, she's freaking out and oh yeah… let's not forget about those horn she has. The fact that she has her weak moments is totally understandable and I wouldn't have wanted in any other way.  Amber had her brave and badass moments. She's amazing and I loved reading in her point of view.
But my favorite character of this book might be Milo. The guy with the badass car (a 1970 Dodge Charger that eats people) and a million secrets. I liked him immediately. Through the book, we get to know him a little better, but I wanted more. I would love to have a little prequel about him! He surprised me a lot during the ending and I cannot wait to see how he will be in book two.
"Now just wait, Amber, okay? Yeah, there are times when we've butted heads, all three of us, but that's what makes us a good team. We each contribute. You're the brain. Milo's the muscle. Me? I'm the heart."
"No, you're not."
'Then I'm the soul."
"You're not the soul."
He frowned. "Then what am I? I'll be anything."
"You can be the appendix," said Milo.
"Then I'll be the appendix!"
Then we have Glenn. Oh Glenn… He was always talking. He just couldn't shut up. Sometimes you wanted to pinch his cheek because he's too cute. Sometimes you wanted to slap him in the face. Either way, you still automatically like him. He weirdly fitted with Amer and Milo. He made everything so funny. But… I didn't think he got enough attention in the end and that made me very sad 😦
Character development is very important to me, side characters included. But they were all brilliant. Her parents and their friends were the creepiest and most disgusting bunch ever. I loved it. I even loved Edgar and The Shining Demon. The supernatural creatures were awesome. This book is full of adventure, blood, humor and action. The ending was brilliant! It ended on a sort-of cliffhanger and I'm dying to read book two (March please be here soon)!
Instant silence. Except for Glenn.
"Ohhh my God! Holy crap! Would you look at my arms? See the goosebumps? What the hell was that? That was creepy! Oh yikes, y'know?
The only negative thing I can say about this book is: it's not a real thriller. I don't know about other readers, but to me a thriller is a book that makes me scared and freaked out when I'm alone reading at 11PM. I didn't got that feeling while reading Demon Road. The last 100 pages were more disgusting than creepy. The fact that it wasn't a "real thriller", didn't changed my opinions about this book. I thought I should mention this, because I originally thought this would be scary as hell.
I would definitely recommend this book to readers who love a good supernatural book. It isn't focused on a forced and twisted romance, which makes it even better. Pure awesomeness, combined with lots of fights, blood and humor. A perfect October read!