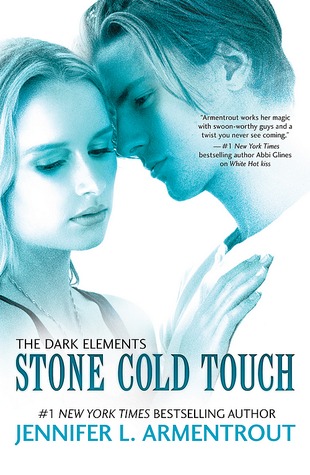 Series: The Dark Elements #2
Genre: NA, romance, urban fantasy, demons, angels
Release date: October 21st 2014
Length: 464 pages
Every touch has its price.
Layla Shaw is trying to pick up the pieces of her shattered life—no easy task for a seventeen-year-old who's pretty sure things can't get worse. Her impossibly gorgeous best friend, Zayne, is forever off-limits thanks to the mysterious powers of her soul-stealing kiss. The Warden clan that has always protected her is suddenly keeping dangerous secrets. And she can barely think about Roth, the wickedly hot demon prince who understood her in ways no one else could.
But sometimes rock bottom is only the beginning. Because suddenly Layla's powers begin to evolve, and she's offered a tantalizing taste of what has always been forbidden. Then, when she least expects it, Roth returns, bringing news that could change her world forever. She's finally getting what she always wanted, but with hell literally breaking loose and the body count adding up, the price may be higher than Layla is willing to pay…

I'm going to keep this review short because most of it has already been said in my review of the first book. There was one mayor bonus though: plenty of Supernatural references, which I loved!
"You're an ass," I spat, picking up the shirt.
He chuckled. "And it's a fine ass, I'm told."  

But yep, Jennifer did it again. And she's the only one who's able to make me question my OTP. In White Hot Kiss I was TOTALLY Team Roth. I barely liked Zayne.. But oh god, I can't believe I'm saying this… Zayne wasn't that bad in this one… was he? Of course Roth is still hot AF, but… just… UGH. She made me hesitate a few times, and I wanted to punch myself for that. I can now say, with absolutely no hesitation at all, that I'm truly in love with Roth. I knew there was so much we didn't know from him and I loved that.
"I know exactly how he looks at you and you do, too … Because it's the way I look at you."

Most of the book, unlike the first one, is focused on the relationship between Layla and Zayne. There were lots of swoon-worthy moments and that's why I hesitated a few times. But in the end, I can't imagine a healthy relationship between those two. The whole kissing thing is definitely a problem (although…. there are some other areas to kiss *grins*) and I just couldn't imagine a good future for them. I most definitely ship Zayne and Stacey!! Now, that would be one hell of a couple!
"I don't deserve you."
"See, that's where you're wrong … That's where you've always been wrong. You deserve everything."

Anyway, like the first book, this one was funny and addictive!  It definitely a bit darker than the first book and it's a bit more fast-paced. They were plenty plot twists, but again, some of the were predictable. Especially the ending. I kind of guessed the biggest plot twist so I wasn't that impressed. Nevertheless, it still made me excited to read the third and final (!!) book of this trilogy!
I mean, I would have read it anyway, cause you know: ROTH! (duhh :D)
"I want you so badly it's like a hunger that gnaws at me endlessly. It doesn't go away … You have no fucking clue."
"Then do something about it," I whispered."