Every Sunday I share a book I discovered during the week. I think it's a good idea for you guys if you're looking for random recommendations 😉
If you want to see the previous ones, just click here.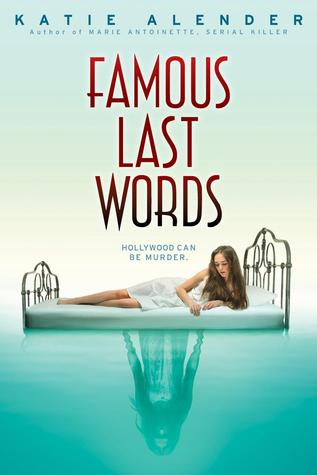 Genre: YA, mystery, thriller, contemporary, supernatural
Hollywood history, mystery, murder, mayhem, and delicious romance collide in this unputdownable thriller from master storyteller Katie Alender.
Willa is freaking out. It seems like she's seeing things. Like a dead body in her swimming pool. Frantic messages on her walls. A reflection that is not her own. It's almost as if someone — or something — is trying to send her a message.
Meanwhile, a killer is stalking Los Angeles — a killer who reenacts famous movie murder scenes. Could Willa's strange visions have to do with these unsolved murders? Or is she going crazy? And who can she confide in? There's Marnie, her new friend who may not be totally trustworthy. And there's Reed, who's ridiculously handsome and seems to get Willa. There's also Wyatt, who's super smart but unhealthily obsessed with the Hollywood Killer.
All Willa knows is, she has to confront the possible-ghost in her house, or she just might lose her mind . . . or her life.
Acclaimed author Katie Alender puts an unforgettable twist on this spine-chilling tale of murder, mystery, mayhem — and the movies.
Thoughts?
I don't know why, but I'm very curious about this book! I rarely read mysteries/thrillers, but this one sounds pretty epic. Can't wait to read it!